CBC promoted its second "Compliance Week"
No. 001
December 7, 2017 – Jundiaí SP Brazil - CBC Indústrias Pesadas S.A. (CBCSA) promoted its second "Compliance Week" in the company.
CBCSA is committed to build and improve the mechanisms of Prevention, Detection and Response within the Compliance Program, in order to strengthen the culture of integrity, in both internal and external relationships, including its Supply Chain, since there is an understanding that such initiatives preserve not only its own reputation, but its commercial partners as well.
The establishment of integrity actions in CBCSA to prevent and combat corruption as well as violations of the Code of Conduct were the lectures´ themes held at the Compliance Week. During the event, which occurred on June 6, 7, 8 and 9, 2017, issues related to hotline´s channels, code of conduct, discrimination, classification of information and anti-corruption and anti-bribery practices were discussed with employees in order to reinforce the importance of preventing illicit acts.
Compliance is an investment and avoids costs with breaches of legal rules. Investments in human resources, training and continuing education mitigate the risks of the organization's operations related to compliance and integrity failures.
This is another contribution of CBCSA, disseminating and strengthening the ethical practices in the market.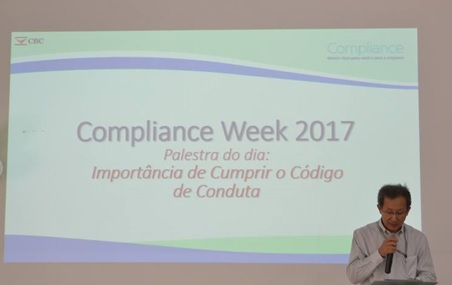 Kazumichi Makino – CBC President, lecturing during the "Compliance Week 2017".